Osteria Madonnetta
"Since 1904, Madonnetta has served the best and most genuine typical Veneto cuisine, our guests can savour our menu of simple, natural, flavoursome and seasonal dishes."
Fam. Guerra
An ancient osteria, a step into the past
"Here, in the heart of Marostica's fourteenth century turrets and walls, Osteria Madonnetta, is one of a kind"
"On entering, one is transported back in time to experience the sights and sounds, and the unique atmosphere of a time gone by. The characteristic Osteria goes back to 1904 when it was first opened by Giuseppe Polita. It has survived, generation after generation, through to the Polita Guerra family and the capable hands of Amelia and Toni, with all its genuine simplicity in tact."
"La Madonnetta was a rest stop for travellers, a refreshment point for soldiers during the First World War, and a welcoming place for the famous American writer E. Hemingway, who in 1918 was an ambulance driver and war correspondent. Throughout its long history, it has been a charming meeting point for anyone in pursuit of a thrilling game of cards, lively conversation and a good glass of wine."
"On entering Madonnetta you'll find a friendly ambience altogether. The antique furniture, the old hearth, the grandfather clock that marks the time, the walls adorned with vintage photos, portraits, serious and light-hearted newspaper clippings, satirical banter, and the beamed ceiling from which hang pots and cooking utensils – everything takes you back to a place inhabited by simple and humble folk and reminds you of the life of our fathers, the children of an arduous soil."
"Alongside a good glass of wine and the inviting and genuine traditional flavours of homemade Veneto dishes, at Madonnetta guests can also admire the work of craftsman Toni Guerra; an object which symbolises the close bond between this ancient tavern and the turreted city of Marostica. It is the large round bench, made from a large pine tree from Marostica's Pausolino Hill that was felled by lightning in 1975. On its top the walled city has been carved with a table inside on which sits a large chessboard to remind everyone of Marostica's famous chess match pageant that takes place in the main square"
G. Antonio Muraro, local writer and historian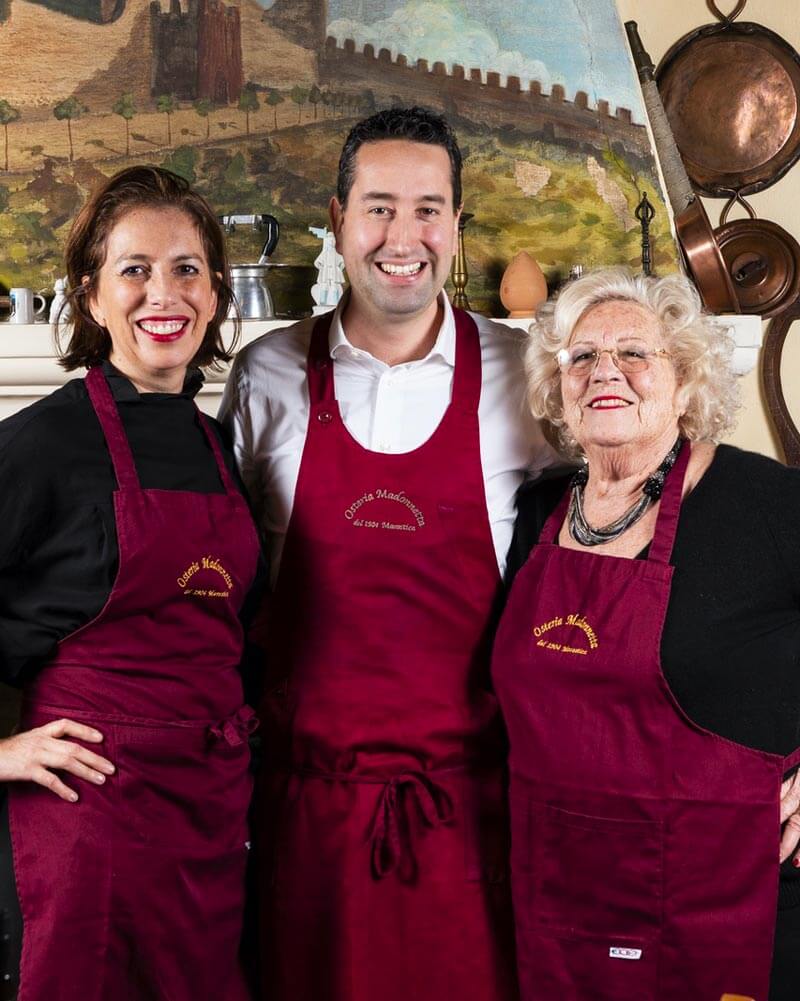 The local area and our sharing ethos
The Osteria Madonnetta upholds the ethos, culture and work of many local and national organisations. We are friends of The Restaurateurs of Vicenza, Zero-kilometre Eateries, The Association of Marostica Goose Restaurants, The Torcolato and Breganze Wine Route, The Slow Food Cooks' Allliance, Slow Food of Bassano del Grappa, Historical Businesses of Italy and Historical Eateries of the Veneto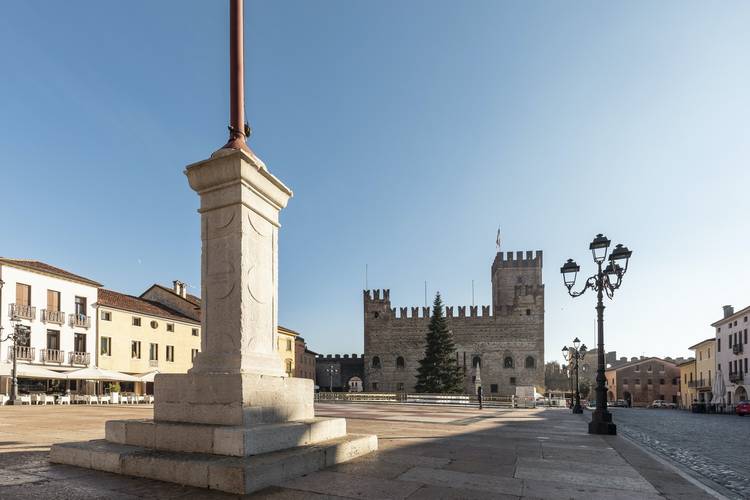 The Madonnetta team
Team spirit, fun, passion and enthusiasm, rounded off with talent and experience. Our people are the key to the outstanding hospitality at Osteria Madonnetta.
Annamaria and Franco
Annamaria and Franco are the pillars of Madonnetta. After fighting all day, they always kiss and make it better. Their presence is a constant source of light relief, Franco's our captain but Annamaria's the commander-in-chief.
Barbara Guerra
Managing the family business is Barbara's greatest delight, like Grandma Amelia her nature's decisive, some say forthright! In describing the dishes she's very precise, and guests are always happy to take her advice.
Sandro Guerra
Sandro's the littlest brother but the biggest joker, as a trained accountant he's anything but mediocre. And at night he's the epitomy of the most charming host. That any respectable establishment could boast.
Giulia
Giulia is full of energy and fizz, and juggles her tasks like a kitchen whizz. She's brilliantly organized, has superb style, is a wine connoisseur and a foodophile.
Khawla
In the dining room and kitchen, Khawla moves with ease, she laughs and jokes and is eager to please. When she enters the room she brightens everyone's day, and you're sure to be charmed when she glances your way.
Hajiba
Hajiba, creates dishes of the perfect consistence, they're the most harmonious treats in existence! Into our kitchen calm and serenity, she injects, making it a better place, in all respects.
Typical Veneto cuisine
Flavours and aromas of the land where the mountains embrace the plain